Cottages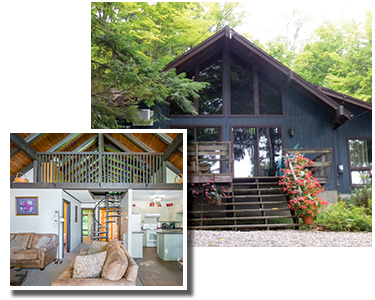 Nestled among the maples and the pines and open sunny green lawns you will find beautiful spacious chalets with terrific decks. A real log cabin is a favorite with many families. A two bedroom suite is tucked away in a wooded area. And don't forget the other charming one and two bedroom cottages. All the cottages have decks with your own picnic table and outdoor furniture. All have cable television, baths and full kitchens. All cottages are air-conditioned, and some have a fireplace in the living room.
We Furnish:
dishes, pots and pans
cooking utensils and silverware
coffee pot
toaster
blankets

lawn chairs
picnic table
microwave
coin laundry
2022 Rates
Click the names of the cottages below to view their description
2
Chalet
4A
Log
4B
Log
8A
Brown
10A
Gray
C-1
Chalet
C-2
Blue
C-3
Chalet
C-4
Chalet
T-1
Navy

---

Maximum Occupancy
8
5
5
5
5
8
5
8
8
6

---

Off-Season Daily *
$270
$170
$170
$180
$180
$290
$200
$270
$270
$190

---

5/1 - 5/31 Weekly
$1260
$810
$810
$740
$740
$1420
$900
$1260
$1260
$890

---

6/1 - 8/31 Weekly
$1600
$950
$950
$840
$840
$1750
$1070
$1600
$1600
$1080

---

9/1- 10/31 Weekly
$1260
$810
$810
$740
$740
$1420
$900
$1260
$1260
$890
* In Season Daily, Memorial Day and Labor Day weekends: Add $20 per day

One bedroom, one bath: 8A, 10A
Two bedroom, one bath: 4A, 4B, C-2, T-1
Three bedroom, two baths: 2, C-1, C-3, C-4
More Info
Maximum capacity in each cottage, as stated above, will not be exceeded, regardless of age.
VISITING POLICY: All visitors to your cottage must be registered in the office as a guest and will be charged at the rate of $5/person, regardless of length of stay. We reserve the right to limit the number of guests. No pets are permitted. Boat slips: $10/registered day.

Check-in: After 2 p.m.
Check-out: By 10 a.m.

Reservations
A deposit of one half the rental fee, in advance, is required to confirm reservations. Minimum cancellation fee of $100.00 per week per cottage. The balance of your deposit will be refunded only when a 30 day cancellation notice is received in writing, prior to April 1. After April 1, refund based on rental of your cottage. On multiple unit rentals (more than one unit), refund of the deposit will be based solely on rebooking of the unit, regardless of when the cancellation notice is given to Pine Hill. If a unit is totally rebooked, Pine Hill will refund the deposit, less a $100.00 administrative fee. MasterCard, Visa, American Express and Discover accepted.